Do you know what the only good thing about being disabled is?
That's it.   But not quite.  There is one more thing.  It's the association with, "dignity".  
(Yes, I am fatter than you think I am and I have worse hair!)
People with mental illnesses don't get the admiring/pitying, "Ah, how dignified they are to carry such a burden!" looks in the street. We're mental. We get the, "I know kung-fu!" looks. People in wheelchairs are usually the main recipients of these looks, as wheelchairs are the most visible sign of disability. This is not universal, but I'd wager that it's a fairly common association. People with disabilities serve as a reminder to people without that they're lucky to have what they have. And I don't think they realise what they have, and I don't think they realise what is being taken away from people with disabilities. Dignity is one thing. The association with dignity doesn't always work in favour of the dignified.
I was a bit emotional at the march. I approached it nervously, holding onto Robert's sign-less hand like a child. It was amazingly well attended- in fact, it was the biggest mass mobilization of disabled people in the United Kingdom ever, with roughly 3000 attending. Charities, to their credit, made their presence visible. Supported, as many are, by government grants does place a bit of a stranglehold on charities. Vocally disagreeing with government policy can mean cuts in their funding and then nobody benefits from their work. The RNIB were there, Mind were there and Rethink were there, rallying with chants of, "We need support! We need care! Don't take away our welfare!" There were people in wheelchairs, on crutches, many guide dogs, signs in braille…AND HERE, AN INTERMISSION, TO SHOW YOU THIS BLOODY AMAZING SIGN: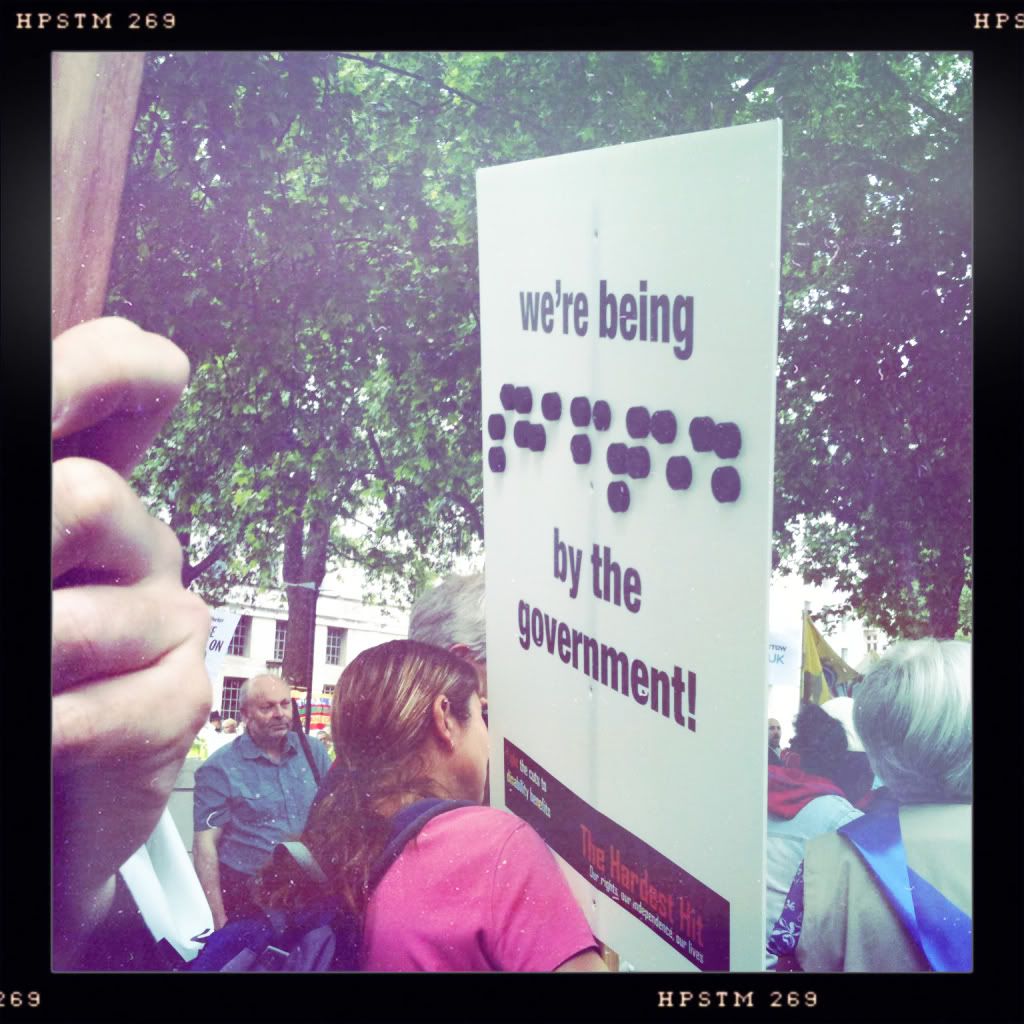 …and people like me, with non-visible disabilities. There were under-supported, undervalued, underpaid carers and allies. People came in coaches. Took their afternoons off work. Robert sacrificed his sleep before his nightshift to be alongside me. My friends Ed and Ewan attended, as did my friend Anna, whose mother is an activist and whose brothers have autism. I found it inspiring, looking into such a huge crowd and seeing so many faces, so many signs. The atmosphere was one of festival, with drums banging, horns honking and chants rising into the air. People were laughing and joking, carrying their babies in slings and rattling clappers.
But a glance back at Millbank and I felt the sensation of being on a precipice before falling. I stopped and looked for a moment. These thousands of people were representing themselves and those who couldn't make it and who can't speak up. And their lives- our lives- are being thrown into the pits.  This is not hyperbole.  People are going to die because of what the government is allowing to happen.  People are not going to pass the WCA, people are going to find it too stressful to even go to the assessment, people are going to fall into financial hardship, people are going to be stripped of their Disability Living Allowance and lose the privileges that comes with it (as it is a, "passport benefit", and indeed, without it, I would not be on my part time course and I would not have had the privacy of a one bedroom flat to be ill in).  People are going to be left housebound and what dignity that have- that word again- is going to be taken away.  People are going to have to rely on their partners to support them when they can't.  This is not hysterical.  This is real, and it is happening to people. Not just now. In the future, this is it.

I realise I drift in circles of political niches when I speak about welfare reform and cuts and people disagree with my viewpoint. To be, it is the sane- nay, humane- viewpoint to be disgusted and outraged at the way the sick, disabled, the poor (and the are often one and the same) and the services that assist them such as Legal Aid, are being targeted. But people often rebut that with, "We are all in this together, and of course welfare needs to be reformed", without an idea of just how savage the reform is. Without understanding how a propaganda machine- from the BBC with, "Saints and Scroungers", to the Sun's dedicated section on, "benefit scroungers and cheats"- has been mobilised to dehumanise people who exist on benefits. That there are other cuts that could have been made, and fairer ways in which to impose the reforms. I am not against some reform, but the government needs to stop with, "benefits culture" and, "empowering the disabled", because they aren't. They are disenfranchising and isolating the disabled. The DWP can keep saying:
We are reforming welfare to make sure that the billions we spend on benefits goes to those who need it and that for the first time disabled people get proper help and support to live independent lives and work in the mainstream jobs that they want.
"Mainstream jobs" may be suited to many people with disabilities, but what they don't realise is the barriers that face those with disabilities in the workplace. While I'm glad that pre-employment screening questionares are no longer legal (thus you do not have to declare a mental illness), employers still discriminate against people with mental health problems and, despite us being protected by the DDA, reasonable adjustments are often not met. Getting time off for appointments, hours to be worked within when one is less affected by medication (how I pine for you!). I personally am very afraid of people I work with finding out about my illness. I am afraid of how that is going to change how they treat me, because it invariably has in the past. And where are the jobs? If you had 2 people going for a job and one had a disability, in all honesty- who would you employ?
And the support is being withdrawn, not expanded.
So I don't repeat myself, this is what I wrote on the Guardian's live blog about NHS reform last week:
I spent four years as a patient of mental health services. I'll spend
the next four years learning how to care for people with mental health
problems. Although I received good care, the trust I lived in became
increasingly fragmented. Fewer staff cared for more patients and
every fortnight a scheme for patients- such as stop smoking support,
disappeared from the wall. However, it enabled me to become well
enough to carry on with my life.

Those who are ill- with mental health problems or otherwise- need
support. That support is being withdrawn. Disability and sickness
benefits such as the Employment and Support Allowance are now harder
to claim. Legal aid may no longer be available to those on low incomes
who need help navigating both employment issues and the welfare
system. Across the country charities such as Mind, which prop up the
work that the NHS does, are seeing their budgets cuts, or- in the case
of Lincolnshire Mind- are closing altogether. Those of us studying
mental health nursing face uncertainty as around 6000 mental health
jobs are being axed. So there will be fewer nurses, therapists and
social workers to support those with mental health problems. There
will also be less financial support, with less legal support and with
less charitable support. With 42% of GPs admitting that they are
worried about commissioning services for mental health problems
because of their lack of knowledge about services for severe mental
illness, then it is difficult to feel confident about the future of
care for those with mental health problems in the UK.
The contributions based ESA is stopped after a year. Where is the support then? And to explain how subtly the goalposts have been shifted, here is an example from my own life. Last year, I was approved for- HOORAY!- a Personal Budget so that I could study part-time at Birkbeck. This was from the council and has pretty much changed my life. It's why I'm going to university, and it's why in 3 years I am going to be qualified to do more than write bollocks at you.
The funding took 6 months to come through. Halfway through my course, I was told that my funding had been withdrawn. Initially, disability living allowance was not counted as income. I was on income support, which is Not Much Money. DLA is non-taxable, and it's generally not counted as income because it's extra money to meet the extra costs that disability bring. The goalposts had shifted. DLA is now counted as income. I had to pay my course fees- more than a £1000- out of my DLA if I wanted to continue. I couldn't afford that at all, and the only reason I'm still in my course is because my social worker went absolutely batshit at them. It is little things like that, making it harder, not easier, to live a, "normal" life off benefits.
A part of didn't feel that I belonged there.  I'm not on benefits anymore.  I do agree in one way that benefits can keep a person in stasis.  While I was on them, I couldn't live with my boyfriend, couldn't have those talks about marriage and kids.  I decided that I also couldn't face being hauled in front of the DWP.  I jumped before I was pushed and I am extremely aware that if I do become ill there is nothing that I can do, no support I can ask for.  It's up to Robert to support me financially.  But I am kidding myself in believing I have somehow, overnight, become an unaffected, an ally. I am, in truth, still someone with mental health problems.
As the march moved, we became aware of the police presence.  They seemed entirely unfazed by us.  That needled me.   On one hand, it's good that they were so respectful and kept their distance.  On the other, I wanted them to be carrying batons.  To be afraid of us like they are of UKUncut, like they are of the students.  Those are the protests that get all the publicity.  The coverage of the protest was paltry. Even Twitter was fairly quiet.  At one point, early in the protest after the speeches at Embankment, a tourist bus cheered as it passed.  They probably didn't know what we were doing.  But it was still appreciated.
And there's the rub. There is dignity.  A peaceful, beautiful protest and I am proud of that.  I am glad that the protest didn't descend into violence.  The most aggressive it got was chanting of, "You say cut back, we say fight back!" which was brilliant.  And delivered with the aggression it deserved.
But I do wish that they had been afraid of us.  That someone was.  That someone in parliament had pause for thought- not just because of the human cost of what they are doing, but because of the backlash.  They didn't sell off forests but they're alright with branding sick and disabled people scroungers.  Nobody is, and that's why the government get away with what they do.  People expect students to be rowdy because they're young. So they turn up with the cameras. People expect disabled and sick people to be meek and dignified. So the cameras don't come.
Hardest Hit did a very good job of mobilising a diverse group of society.   It isn't because we're apathetic.  It's because students are people in higher education and  sickness and disability are general terms.  Everyone lives with it differently and will be affected differently by the cuts.  There are people who can speak out and people who need to rely on others to do it for them.  Take autism, for example.  The prevailing perception of autism is largely founded upon high-functioning autism.  People forget that there are people with autism who will spend their lives in residential care and who cannot communicate, and those people are affected, too.  We, today, were visible.  But it's 3000, 5000.  There are millions.
A little evil part of me wanted something to kick off, despite the fact that, personally, I would have panicked.  But a very large part of me knew that if that had happened, the consequences would be dire.  Sick and disabled people don't need any more bad press, and the actions of a few who did kick off would brand everybody else.  There was wry joking in the crowds about the possibility of the Daily Express running a story along the lines of, "CAN'T WALK, CAN'T WORK- BUT CAN MARCH?" I wouldn't be in the least surprised.  But even worse is if nothing came of this but a patronising pat on the back.
It passed off into the warm, gentle afternoon, around the most beautiful and most moneyed parts of London.  We went to the lobby, then, realising I was too idiotic to not actually register with my MP, clambered onto the tube.  A few people asked us what our signs meant. I hope that this is the start of something.  Please begin listening to us because we are nothing short of pleading.  That is the last stop of dignity.
For photophiles, here are some pictures.  I forgot my camera and used Hipstamatic, which unfortunately adds a filter of sentimentality to everything. They are huge, so click to embiggen.