Ever since I've been thrust back into the Real World, I've been trying to work out how to be Normal.
Now, having been out of the Real World for almost four years (and was ejected due to being mad), I have a lot to learn. How do normal people talk? What do they talk about? How do they look?
I've been seriously out of practice. I have to break habits I've had for years.
My field trip has so far lasted four weeks (or indeed since September last year for college, but that's one a day a week, where you mostly sit and listen. So let's say it's lasted twelvety weeks a liger). In this relatively brief period of time, I have discovered things about the Real World that I had forgotten in my time out of it.
1) Other People You Have to Interact With.
Before the internet, our best friends were our next door neighbours, our colleagues and the people we met at university. With the latter, there was some form of filtering. After all, the people you are on a course with have at least the interest of that subject in common with you. But you grew up with the people in your street. You spent your teenagehood with them, even if you were, on many levels, fundamentally different. You were forced to speak to the people in your immediate vicinity, or else you would be curled in a corner, talking to your sunflower (more on that later).
Nowadays, we have the most select filtering of all- social networking. You can add, delete and block people from your life. Defriending on Facebook is serious business. Whereas you may chuckle and say, "It' s just deleting somebody from your profile"- well, if that person has come to exist in your Real Life, then you have some explaining to do.
If you grew up with the internet as I did, then you can avoid talking to everybody in you immediate vicinity. You can still, of course, talk to your sunflower (more on that later). But you can also search Yahoo for people who like, say, er, ahem, manic street preachers and voila! You are no longer alone.
You don't have to do the awkward talking to actual people to make friends. You can do it online, and you can keep them online. Your friends may never meet each other, and in the sterile space of the internet, you can show and hide what you want. Likewise, you can get a quick gauge of people by browsing their profile details. "MUSLEMS OUT OF ENGLAND! ENGLISH FOR THE ENGLISH!!" listed as a, "like"? Avoid!
Interests are a shorthand for values. At least, this is way I treated them when I was growing up. "Values", as a teenager, were amorphous jellyfishes that pulsed and shivered. I forged an internet collective of people with similar interests to mine in the belief that we shared similar values. If someone likes the Manics, then they must be left-wing, fond of eyeliner, vapid, prone to self harm and sexually curious, just like I was!
But as you get older, and your values change, then the collective dissolves. You shimmy away from each other. You delete that friend, and that's that. Because you're not in their immediacy, you don't have the, "Mumble mumble late for bus" thing when they're chasing you with a rolling pin asking why you've not deigned to take their calls anymore. I mean, how many of my friends even have my number? How many of their numbers do I have? (Shamefully, the last time I spoke to a friend on the phone was… I can't remember. But I generally hate the phone and don't even ring my family much).
With Twitter, you have followers. With Facebook, "friends". With blogs, readers. All approximations of the same thing.
It's no secret! I am socially phobic (and the last person you'd expect to be if you met me). I am intensely anxious in social situations and it's actually become worse, not better, over the past months of no-mentalness. I used to be a GREAT deal more social than I am now. My default, goddammit, is anxiety, with no little buffer of hypomania to sort me out in the short term. I am prone to apologising for- well, absolutely bloody everything because I feel like I sound stupid.
I like people. I am not a cynical person who feels that I and I alone am worthy. I don't like unkindness and as I've grown older, I have come to find bitching very distasteful and I avoid it.
I like people a lot and I dislike people very rarely. Because of this, I am sometimes offputtingly over-eager, or standoffishly rude. In general, I'm friendly, but my eagerness is construed for neediness rather than awkwardness, and my awkwardness translates as rudeness.
I am very aware of what I say, and that makes me ramble, which again, makes me nervous. I avoid social situations. It takes a lot of coaxing to get me out of the house, and, if you do, I'll drink my balls off to cope with it. Part of the reasons I got involved with mental health activism was to challenge my fear of social situations. I got involved in stand-up for the same reason. And I'm fine transiently- I'll talk the hind legs of a stranger in the street, because I will never see that person again.
The internet is a god send for me. It's how I found my friends, and it's how I've managed to never really see hem. Without it, I wouldn't have anybody to "talk" to (except for Robert, as I'm pretty cool and okay in romantic relationships, and my sunflower- more on that later). I used to be good at MSN and those kind of chat services, but even that became too immediate for me. I keep people at an arm's length- an arm, a mile, a country, a continent. By avoiding social situations, I have also avoided transport and services. I do have friends, and people I like and who like me, but I am the best Excuser-Maker-Er in the world. I could just dodge everyone and everything if I felt like it.
Until four weeks ago.
On my first day at work, Robert- bless him- took me to the train station. I wanted to be on time so I avoided the bus. The bus, by the way, is easier for the social phobic because you can get off it or open a window. They are also more frequent and less packed than the train I get to work. Hooray!
I had to buy a ticket. There was a machine for that. I stood at the platform, looking around. It had been three years since I stood on a train platform at rush hour. Ordinarily I had the luxury of disparate little wastrels like myself blessing the emptiness of the carriages with loud MP3 player and long, louche, demined legs.
It was a throng. A bomb. People. All dressed up in similar gear- work wear. It's a thing, you know.
I got on the train and had my face pressed up to someone's armpit. That's fine with me, I like armpits. Armpits like my face. Getting off the train I actually found it a little thrill to be amongst the crowds, to be camoflaged, to disappear. I felt tall and proud walking amongst the living.
Colleagues. I have colleagues now. And they are, without exception, absolutely lovely. But I have them, and I didn't pick them. I know bugger all about them except for what they do for a job. (Unfortunately, none of them come in wearing t-shirts emblazoned with, "I AM NOT A MISOGYNIST, I AM NOT A BIGOT, I LIKE CATS, ASK ME ABOUT CATS"). With gentle probing I could probably find a lot out (I am weirdly good at this, which is one of the reasons I want to be a mental health nurse) but I daren't. And wouldn't, because it's work. You have to act all work-like. Stick up your bum and a zip on your mouth. That's one I'm learning.
I share my desk, my day, and, if I've had a few cups of coffee, my deliberations on the fuckery of Excel with people I didn't choose to. And neither did they. We are thrown together. I can't run from them. I can't hide from them. If things are getting a bit awkward, I can't close the chat window. If I don't want to respond to a question, I can't pretend I didn't read the email. I can't hang up, I can't avoid them. I HAVE to interact. I have no choice.
There are these people everywhere! Did you know that? They're EVERYWHERE. On trains, in cars, in parks, in work, probably even under your bed right now. People that you have to interact with, on some level. And even if it's not a meaningful level, it's a start for someone like me. And if I'm wrong, you should correct me, because…
2: Criticism only exists in the Real World.
I used to be really bad at dealing with criticism. I'm a sensitive soul, and I've also been prone to acting like a complete knob at points in my life when I was either a) mad or b) acting like a knob. The mad part was partly what made me so bad at dealing with it. And being a mad teenager. I thought I was better at dealing with criticism these days.
Then I realised- when was the last time I was criticised?
I've had many a twat troll me on my old blog. I was rarely hurt by that. I've had many nasty comments and emails, and they deflect off me. The reason is because although they are attacking one aspect of me, it doesn't hurt because it's not personal. Okay, so calling me self pitying is personal, but that's a comment on what is, and was, a quite self pitying blog. It was self pitying because it was what I used for self pity. I can shrug that off. I can be scoffed at as a bad writer, and that's also fair dos. Some people may think I'm a bad writer. (This one does have some weight- I have not pursued writing as viciously as I would like to due to fear of being told to go fuck off because I'm crap. And self pitying).
Online people can love you or hate you- there's rarely an inbetween. Friendships wax and wane- not from love to hate (well, in some circumstances) but from, "You're great", to, "You're being annoying", to, "Oh, for god's sake!"
When a friend has said those things to me- ouch. With online criticism, a hefty amount of it has missed the mark. But criticism from my friends, from my family, from the people I love- that is the most painful of all, because it has almost always been true. It has been said to my face. I have seen their expressions and they have seen the pain in mine. And some of those friends who have criticised me have become ex-friends, because their criticism was the end of the friendship. In some cases, it was because they did not like me, and the criticism was an attack. In others, it was because they were showing me the error of my ways, and I found it too painful to continue a friendship with them, as though I had been stripped and flayed. Now, older and wiser, I appreciate it and thank them. I always did but couldn't express it, but it is too late for some things now.
Having cocooned myself off from people, I'm now back- soft, butterfly delicate- in the Real World where criticism is not just an occupational hazard but a certainty. I may be criticised by my co-workers. I may, in the future, be criticised by my patients, my tutors, my cohorts and any friends I try to make along the way. I will have to deal with it and learn from it, and I am getting better at that. I understand now- what I didn't then- that it is not necessarily personal. And it is helpful.
I do have close relationships. My close relationships are exempt from everything I'm saying here. I'm boringly well adjusted in those, and extremely comfortable. In these relationships, I am my favourite self, the self I wish I had the courage to always be. I'm not awkward, bad at criticism, shy or etc with the people I'm very close to. I have Robert- my boyfriend, who I have an emanently sane, happy and healthy relationship with him (I met him on Teletext 11 years ago, so, er…) There's my best friend, Stephen, who sadly lives in Belfast. And my family. I can take criticism from those people easily. But friends are laced with the anxiety of socialness. It has been hard for me in the past to reconcile those things with my already-nerves.
In work and in college, again, I will have no choice. Take it on the chin. And carry on. Difficult, though, isn't it?
3: In Real Life, Not Everyone Is Mental or Interested In Mental Things
Phew, well. I have spent the past four years deeply involved in mental health activism and in being one of the most visible and well-known mental health bloggers. That, for those years, was almost my job.
But!
Did you know that although 1 in 4 people will experience mental health problems in their life, that 3 in 4 people are not mental and don't give a toss about anything related to mental illness?
Mentalism was my topic du jour, 365 days a week. For four years. My own mental health- and others'- permeated every aspect of my existence. I want to state this now, bloggers: IT IS DEEPLY UNHEALTHY. Seriously, it's not good.
I have surrounded myself with people who are mental and who like talking about it. In one way, this is great. There's a lot of stigma surrounding mental illness, it's good to talk. Talking openly about mental health led me to brilliant people and to empowering ways to spend my time in the years I had off the Real World being medicated and trying to recover.
But I got into the habit of talking about it so much that it has made me both deeply dull and even more sopilistic than when I was a teenager. Oh, I can do a rant alright. I do care about mental health a lot, hence my going into it as a profession (due to being a failed writer, natch). But that being all you rant about? To everyone?
It's not good. And not everyone cares. There is shit you should keep to yo'self. And I'm not used to doing that, given that the company I have surrounded myself with freely admit and are not shocked by mental illness. Your work colleagues don't care. They care about the things you do at work. And rightly so. The people in your college don't care. They care about getting an education and lots of wonderful things in their lives. They may care about that stuff in private, but it's private for a reason. These boundaries are new to me. I am learning a lot about boundaries.
I didn't want to disclose in work, at all. You know how long I lasted? 2 weeks. So, it was a slip up in a discussion about celebrity mentals, but there you go. I am deeply pished off at myself for that. I don't have to further some cause by being, "open". Bollocks to that, I don't want it to be known everywhere I go, by everyone I speak to. Because as much as it has also bought me into contact with amazing people, it has isolated and alienated me from others. Not because of OMG THE STIGMAS! but because I AM BORING going on about it. Because I talk about mental health a lot, I tend to end up talking about me a lot. ME. ME. MEEEEEEEEEEEEEEEEE!
Bollocks.
So I try not to- except here, of course. But I fail. I assume everyone cares about the plight of those with mental illness and otherwise in our country. They don't! That's why we have the policies in place that we do. I am so entrenched in the glittering company of those who do care that when I meet people who don't, it's shocking. "What, alcoholics deserve to die? Schizophrenics are all mass murderers? Why yes, thank you, I am enlightened! Of course I'll get the filing done!"
In my university interview, someone there- FOR A DEGREE IN MENTAL HEALTH NURSING- said some of the most profoundly stupid shit I've ever heard about people with mental illness. Namely, that they were all child molesters. My Dr. Strangelove hand was twitching. But if that's the future of nursing, what's the general populace like?
I also tend to look for signs of unorthodoxy in other people. I am Winston Smith with Symes. It is partly trying to suss out kindred spirits. Anyone too normal I suspect of hiding something. I could pathologise the population. And that, dear friends, is an extremely dangerous thing to do.
And this is my private life too. And I deserve one at work and stuff, like everyone else. Mental health writing, activism, everything, will always be a big part of my life. But it can't be all of it, all the time, like it was. It is too much.
4. What the hell DO YOU TALK ABOUT?
Then what do you talk about with People In the Real World? I mean, for the most part, they won't share your interests or your ideals. But you still have to talk to them so what do you say?
I have now equipped myself with an arsenal of Things To Say In The Real World:
a) "So, what are you doing at the weekend?"
This one gives me a chance to practise, "Active Listening" and also to practise, "lying my arse off" as, due to aforementioned social-avoidance, I almost never have anything to do at the weekend but watching Come Dine With Me in my pants. Or if Robert's off work, some shenanigans that can sound like criminal activity, so should probably steer clear.
d) "So, where are you going to university?"
In my class at Birkbeck, although we have the Shared Interest Thing going on, I still don't know anyone (but one person) well enough to ask them anything personal. This one usually sends them off on interesting things, except when they reply they have been rejected to all this year, and then ask me the same question, and I reveal I was bitching about choosing between two, but it's okay, because mental health nursing is not an oversubscribed course like adult, child, midwifery, social care, occupational health or b other.
k) "Where do you live?"
…only to be asked of colleagues, not of Random People, as it looks stalky. This one is useful because it opens up onto…
i)…"Commuting in London PSHAW!"
…which is one of those communal bonding experiences. PSHAW!
With so much small talk at my disposal, I could be a hairdresser!
As silly as it may seem, these are things that are genuinely useful to me. I enjoy it. Because I'm a bit shy, I tend to get really overenthusiastic when people talk to me and crack my head open and thus flatten them against the wall with the force of six months' worth of thoughts and observations about the world that I have not been able to share but wanted to. When they finish staring at me in silence, any number of the above generally diffuses the situation. I need to learn how to shut up and stop rambling. And these safe topics are good for that.
m) "Do I smell? I think I smell". *SNIFFFFFFFFFFFFFFFFFF*
Not acceptable. Found that out today.
5) Normal People In the Real World Always Look Far More Polished Than You Ever Will
When I google, "Person at work", I get this: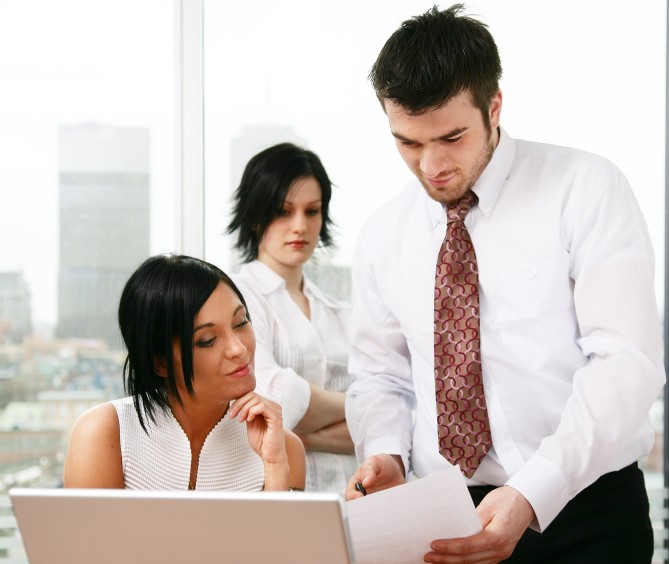 Look at those polished cunts cunts. How can they have such nice hair? (Albeit nice hair from the nineties). How can they look all professional, like they didn't pick their shirt up from the floor after wiping their nose on it during the night? How can the sulky one in the background look so made up? HOW?
Here's me, right, on my first day at work:
Pained expression aside, that's me looking professional. My hair. My hair does what the fuck it wants. And clothes. I can't get, "professional" clothes. The clothing industry thinks someone of my height is nine years old and someone of my weight is six foot one. Cardigans, dresses and tights that rip at the crotch all the fecking time for me. I always look a bit greasy and ill-kempt. I cannot be the only one lumbering through the world feeling like their Adult card is going to be taken away at any time.
6) Once you realise that, it's not so scary.
Another thing about being a bit of a shut-away is that you have this romantic notion of how uniquely fucked up you are. Okay, I don't think I'm that fucked up. That was for my teens and early twenties. I don't, for example, think I'm a, "damaged" or hard done by person. I don't think I'm uniquely stupid or unlikeable. Okay, I am unlikeable sometimes and do unlikeable things, but nothing OHMYGODawful. Like I used to think.
But I do think I'm weird. I do think I have more quirks than the average. My brain doesn't work quite like it should. I tend to lose and confuse people often. I do think I'm an incredibly acquired taste and wonder if I will ever meet all those whose taste is acquired to me.
And I am a bit weird. But so is everyone, in their own way.
Robert- who for some time was the clear winner of, "Most Socially Awkward Person In Our Flat Award", once exclaimed to me, in the hushed, reverential tones of one who had just stumbled across irrefutable proof of god:
"Everyone's weird. Everyone's insecure!"
…and it's true. While I'm worrying that I'm an eejit (in some situations, yes, I am), so is everyone else. While I'm wearing my stiff tights and careful make up waiting to be unmasked as a fraud, most people are doing the same thing. While I'm talking total bollocks in a nervous babble, well- okay, some people might want to throttle me. But some people might- like me- find a sort of relief, a kinship with the Nervous Ranters who dwell amongst us.
Not everyone has to like you. And you don't have to like everyone.
ENOUGH IS ENOUGH!
I'm getting used to the Work World. I'm sort of trying to get used to the Study World (the last time I was in that one was my GCSEs). I'm going to try the Social World. I HAVE PLANS THIS WEEKEND. I am going to try- for once- to keep them.
Wish me luck!
Here is our sunflower. It needs a name please!